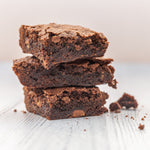 Perfectly Sweet and Fudgy Brownies
Created by Conexión Maker Chef Stephen Durfee
With Valentine's Day right around the corner, what better way to surprise your loved ones than with some extra fudgy brownies? Right?? For this brownie recipe, award-winning Chef Stephen Durfee selected our irresistible and equally sustainable Puerto Quito 55% couverture (Direct Trade + made with single-origin Arriba Nacional cacao) as the chocolatey anchor. The end result scores high on the chocolate notes, with a delicate sweetness that gives way to the toffee flavors for a completely delicious experience.
Ingredients:
~1 stick (100g) unsalted butter
78g all-purpose flour, sifted
3 large eggs
240g brown sugar
40g cacao nibs
1/2 tsp (3g) vanilla extract
1/2 tsp (3g) salt
Directions:
Preheat the oven to 325°F (163℃).
Melt chocolate and butter in a large saucepan.
Whip the eggs, sugar, vanilla extract, and salt together until the mixture is thick and holds a ribbon.
Fold the whipped eggs into the melted chocolate mixture.
Blend in the flour with a wooden spoon.
Spread the mixture onto a 1/4" sheet pan lined with a Silpat mat/silicone baking pad.
Add the cocoa nibs on top to garnish.
Bake for about 22-25 minutes.
Let the brownies cool to room temperature before cutting them into small squares.
Enjoy!
[Photo by iMattSmart on Unsplash]