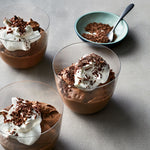 Creamy Chocolate Mousse with Swiss Meringue
Created by Conexión Maker Chef Stephen Durfee
We have a deliciously creamy chocolate mousse with Swiss meringue recipe for you this week, brought to you by our esteemed colleague and good friend Chef Stephen Durfee. This time, he went with our Manabí 70% dark chocolate couverture. This dark chocolate has a flavor profile deeply rich with notes of red fruits and aromatic wood, and a long-lasting berry finish.
Ingredients:
150g cream
200g egg whites
60g egg yolks (pasteurized)
80g sugar
Directions:
To prepare the chocolate mousse:
Melt the chocolate couverture thoroughly to 135°F (57°C).
Heat the cream to a simmer and then combine with the melted chocolate.
Blend together to make a smooth emulsion.
To prepare the Swiss meringue:
Combine the egg whites and sugar and heat to 140°F (60°C).
Whip this mixture on medium speed until the temperature reaches ~104°F (40°C).
Next, blend a portion of the cooled meringue into the chocolate mixture. Add enough in order to obtain a smooth emulsion.
Add the egg yolks, along with the remaining meringue.
Enjoy this on its own, use as a frosting, or include as part of your layered dessert – get creative! You may also put it in the fridge for 30 minutes for a nice chill, but it may be eaten immediately.
We would love to hear from you and see some of your creations!
[Photo Source: Food & Wine]