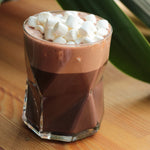 Rich Decadent Drinking Chocolate (Updated for 2022)
Created by Conexión Maker Chef Anne Boulley
Hot Chocolate season is definitely upon us, and we want you extra ready this year!
Expert chocolatier, Conexión Chocolate Ambassador, and creative chocolate artist + educator Anne Boulley aka Artisanne (@Artisanne_Chocolatier) offers up this gem of a hot chocolate recipe. She makes it with our Fortaleza 64% chocolate discs (instead of cocoa/mixes), for an extra rich and creamy beverage. This lighter dark chocolate balances a sweet caramel note and elegant cacao with red fruits, macadamia, and molasses with a buttery finish.
Ingredients:
60g (2.5oz) Fortaleza 64% dark chocolate couverture
8oz (200ml) preferred milk (dairy/oat/soy/nut)
pinch of salt, optional
brown sugar/honey crystals/caramel, optional
Spices: cinnamon/nutmeg/chili pepper, optional
Toppings: hand-crafted marshmallows or whipped cream, optional
Alcohol: shot of brandy/whiskey, optional

You can watch Chef Anne Boulley work her magic preparing this below, along with a brief clip using one of her elegantly-crafted Drinking Chocolate Bombs.
Directions:
Heat milk till just starting to boil, then turn down the heat to a simmer.
Add the chocolate and stir with a spoon or whisk till incorporated and starting to thicken slightly (2 minutes). 
Do not burn as you cook the chocolate and milk. You just want it to thicken slightly and stay combined.
Take off the heat and taste for sweetness.
Add any sweetener as desired. 
You can reheat gently as needed so it's something that can be done ahead to serve to customers. 
Also, the chocolate ground with a little brown sugar or honey crystals can be added to a large bonbon shell to make drinking chocolate bombs. 
Additional flavor options that can be nice include spices such as cinnamon, nutmeg, and chili pepper. You may also opt for some caramel and sea salt, handcrafted marshmallows, whipped cream or whipped coconut cream, or how about a shot of brandy or whiskey? The options are endless, but our favorite is the pure rich flavor of this delicious heirloom cacao blended into a velvety warm drink.
[Photo by Daria Rudyk on Unsplash]