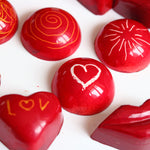 White Chocolate Bonbons with Strawberry Ganache Filling
Created by Conexión Maker Chef Anne Boulley
Surprise your Valentine this year with a thoughtful and personalized treat sure to satisfy their sweet tooth. We invite you to make the most delightful chocolate bonbons using our Atacames 33% sustainable couverture, an ideal milk chocolate couverture to freshen up your baking ideas. This is milk chocolate as it was meant to be, crafted with only the best cacao butter, Ecuadorian milk, and pure vanilla. Well-rounded cocoa flavor shaped by rich creamy cocoa butter, and balanced with subtle notes of vanilla.
Ingredients:
600g Atacames 33% White Chocolate Couverture (300g for the strawberry ganache filling, 300g for the yogurt white chocolate ganache)
100g strawberry puree (strained to remove seeds)
1 tsp yogurt powder from Modernist Pantry (or approx. ½ tsp citric acid)
80g ultra-high temperature (UHT) heavy cream
20g honey
Directions:
To prepare the Strawberry Ganache Filling:
Heat the strawberry puree to a boil. Remove from heat and let it cool for 1 minute.
Pour the strawberry puree over the white chocolate and let it melt for 2 minutes.
Mix the ganache until smooth (mix with an immersion blender if needed).
Pipe halfway up shells at 86°F or cooler.
To prepare the Yogurt White Chocolate Ganache:
Heat the heavy cream and honey together. Then pour it over the white chocolate and let it melt for 2 minutes.
Blend with an immersion blender until soft. 
Next, sprinkle in the yogurt powder until blended. Taste for tartness and add more if desired.
Pipe on top of the strawberry filling once the ganache is 86°F or cooler.
Enjoy!
Send us any thoughts or questions below (or reach out to us on social media), and definitely share photos of your magical creations!