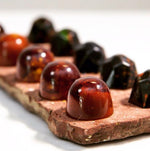 Master the tempering technique with cocoa butter shells
     Spring is around the corner, how will you receive Easter? Today, we are using the seeding method to temper chocolate. As chef, I think this is the best method to use when working at home.
     Not only will these cocoa butter shells impress your palate, but it can be the perfect Easter gift to the little ones at home! So, it is a great way to impress with your chocolate making skills.
     The recipe may seem a little difficult at first sight, but with a glass of red wine and good old music, you will feel like you are floating in a cloud of chocolate. 
Ingredients:
Directions:
Chocolate Ganache Filling:
Combine chocolate and whipping cream in a microwave-safe bowl. Melt in the microwave for a minute on high.
Let stand for 2 minutes. Then, stir to combine. And if you still have unmelted chocolate, heat in the microwave at 10 to 20-second intervals until completely melted.

Next, use a hand blender 

to whip the chocolate. Cover with a plastic  wrap 

and let chill in the fridge until set. Usually, about 2 hours but you can leave it in the fridge for up to 2 days.

When ready to use, transfer the ganache to a

 pipping bag

. Cut a small hole at the end when ready to pipe.
Painting the bonbon molds:
Melt the cocoa butter in a microwave-safe

 bowl

. It takes no more than 30 to 40 seconds. Set aside.
On a small plate, add the edible powdered food colors. Today, I used green and blue, but you can use one or more colors.

Add a tablespoon of cocoa butter on the plate in between the colors. Using a soft-bristled paintbrush, combine one color with the cocoa butter. Make a thick paste and smear the color in each cavity of the bonbon mold.

Place the bonbon mold in the fridge for 10 minutes for the cocoa butter to set.
Tempering chocolate:
Use a microwave-safe bowl, heat-proof spatula or spoon, and thermometer.
Chop the chocolate into small, similar size pieces. Place ⅔ of the chocolate in one bowl. Chop the remaining chocolate into smaller pieces and set them aside.

Place the large batch of chocolate into the microwave and start at 30 seconds on high. Then, take it out of the microwave and stir it with a spatula or spoon.

Next, put it back into the microwave and give it another 20 seconds. Remove and stir again. And if necessary, put it back into the microwave for 10 seconds at a time until it melts but does not go over 110°F/43°C (max 115°F/46°C).
     Let your creativitiness fly with warm colors in every bonbon you make. You craft the bonbons and we got your back with dreamy toffee and sweet Puerto Quito 55% Conexión Chocolate couverture.