This store requires javascript to be enabled for some features to work correctly.
An heirloom variety in danger of extinction
Ecuador's Arriba Nacional Cacao
We work directly with cacao cooperatives as well as the Heirloom Cacao Preservation Fund (HCP) to preserve this increasingly rare cacao, empowering communities and inspiring new generations.

We use a variety of roasting styles to highlight the innate organoleptic flavor profiles from different regions of Ecuador to bring single-origin artisan chocolate to life.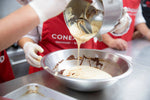 Terroir-Driven Fine Chocolate Couvertures
Choosing the ideal couverture from the numerous options available can be challenging, which is why we're excited to offer a selection that is unique in a variety of ways. Our couvertures include a wide assortment of origins, percentages and roast levels creating complex flavor profiles that are otherwise hard to achieve.

Learn More
A Woman-Owned Chocolate Company
Jenny Samaniego's love of cacao started at a young age in her home country of Ecuador, where she now works alongside small-scale cacao farmers to bring single origin artisan chocolate to life. Conexión Chocolate is made with Heirloom Arriba Nacional Cacao and a precise attention to detail, creating an unmatched depth of flavor.
Read More
Supporting Over 4000 small scale family growers
Ethical Sourcing
Our cacao beans are sourced directly from 5 cacao cooperatives all over Ecuador.
Latest News
Conexión Blog
Awards & Certifications
Quality and Commitment to You
A clean, green chocolate you can feel great about!