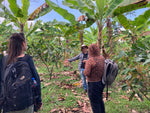 Conexión Chocolate forms part of the IPD a german initiative that connects chocolatiers around the globe.
The Import Promotion Desk Services (IPD) in Germany has selected Conexión Chocolate to establish relationships and showcase the tradition and sustainability of our chocolate with European chocolatiers and chocolate makers.
On June 28th, 6 participants from around the globe, like Amsterdam, Italy, Costa Rica, Belgium, and the Netherlands, explored the beautiful town of Milagro, Guayas, where they experienced one of the best fine aroma cacao in the world. They connected and talked directly with our producers and experienced firsthand our sustainable value chain and how it all plays in creating awesome and delicious Ecuadorian chocolate.
First, they visited the cacao farmers, where they learned about the long tradition of the Arriba Nacional Cacao; they interacted with the families that care for the plantation and how we help protect this beautiful caco tradition, ensuring sustainable agroforestry practice in our chocolate-making.
Then, we went to the Cacao Collection Center, where we partnered with the Union of Cocoa Peasant Organizations (UNOCASE) Co-ops, where more than 400 producers work, and we help support. Our visitors also learned about the importance of postharvest and the impact that has on the chocolate flavor. After that, we took a quick lunch break with the local producers tasting some of the delicious Ecuadorian cuisines and connecting more with the local scene of the Guayas province.
Finally, Conexión Chocolate did a beautiful tasting where everything came full circle, and our friends experience not just great quality chocolate but the history and the hard work behind all of this. We are so happy with the outcome, and this was our favorite part; we love connecting great businesses with our products and the Ecuadorian chocolate and cacao culture.