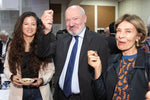 Enhancing collaboration and sustainabiliy at the Salón del Chocolate, Cacao y Café Ecuador 2023
Salon del Chocolate, Cacao y Café Ecuador 2023, gathers thousands of specialty chocolate and coffee maker companies to display their products for people to discover and showcase in Quito, Ecuador.

 
Conexión Chocolate was part of it in partnership with the CREA project, which aims to develop opportunities in the EU for sustainable companies in the agricultural sector.
It was an awesome conference where everyone got to experience the amazing flavor of our chocolate. They learned the work we are doing with the different co-ops in the 4 provinces where we work in Ecuador and how these efforts help more than 4000 cacao families and farmers. 
Our booth was the meeting point for chocolate connoisseurs and essential personalities in Ecuador, like prime minister Julio José Prado and Jhohana Renckens from Rikola, who loved sampling our great variety of chocolate. 
Our Founder, Jenny Samaniego, also talked about the importance of community and collaboration and direct trade with cacao producers and how this develops the community and well-being of the caco provinces in Ecuador. We are conscious and want to expose how beneficial it is to have a sustainable and community base process for cacao production. If you want to learn more about this, don't forget we have our Cacao and Chocolate Summit on September 14th of this year.