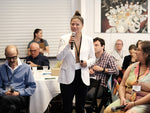 Conexión Chocolate at the 2023 FCIA Conference at NYC
The Fine Chocolate Industry Association (FCIA) aims to elevate the art and business of chocolate, and this year they gather us all in the Institute of Culinary Education (ICE) in the heart of NYC.


The event was terrific; we connected with chocolatiers and chocolate makers from around the globe, tried new cacao, and attended many exciting conversations about the stake of chocolate nowadays.

Conexión Chocolate, Guitard, and Uncommon Cacao presented how we approached professionals, communicated, and mitigated the issues raised by advocacy groups relating to the heavy metal presence in cacao and chocolate, all this led by Jose Lopez from The Fine Cacao Institute (FCCI).
We were also able to see some familiar faces and meet new ones, all sharing the same passion for fine chocolate and cacao. Everyone loved trying our single-origin chocolate covertures and hearing about the history and culture behind our Ecuadorian specialty chocolate.
We take great pride in our sustainability methods and direct trade approach with the more than 400 families we work with through the co-ops in the different regions of Ecuador. Conexión is also proud to be part of the FCIA member community and elevate this beautiful and delicious deliquesce worldwide.