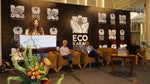 Conexión Chocolate at Chokao 2023 in Guayaquil, Ecuador.
Once again, we were completely grateful to be able to present our chocolate and vision in our beautiful Ecuador. This time at Chokao 2023, we partner with the CREA project by Rikolto, an initiative funded by the EU government to highlight fair and sustainable products in the European market.
We gathered thousands around our boot and talked about our awesome value chain and how it aligns with the commitment that we have to bring respect and fairness to the Ecuadorian cacao producers and leave as little impact as possible on our earth while getting the best terroir-driven specialty chocolate, that is sustainably crafted here at the origin. 
They could also taste and sample our amazing dark chocolate bars and covertures. Among the crowd, we were visited by Niels Olsen, the minister of tourism, Daniel Legarda, the minister of production, And the president and director of ANECACAO, Iván Ontaneda, and Merlyn Casanova.
To finalize this awesome event, our Founder, Jenny Samaniego, was part of a thought-provoking panel discussion alongside industry leaders such as John Kehoe from Guittard and Brigitte Laliberté from Cacao of Excellence, an organization that empowers cacao producers. 
Again we are beyond thankful for all the people we got to make conexión with. Bringing value to the chocolate community here in Ecuador.