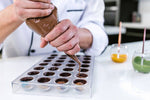 Specialty Chocolate: Cultivating Gems
Discovering Gems
We were elated to hear the news about another designation site selected by the Heirloom Cacao Preservation Fund (HCP) a few weeks back. It reminded us of our very own heirloom designated cooperative here in Ecuador. 
The desire to promote specialty cacao and chocolate in this industry is still rather new, and is often compared with the strong footing specialty coffee has managed to establish in the global marketplace. 
For specialty coffee the focus has been on flavor. Cupping coffee is the technique used to taste and smell often hundreds of flavors of coffee and efficiently select those with the best flavors. 
Specialty Chocolate also has a strong focus on flavor. Chocolate tasting is a widely known activity that takes the taster through a series of almost meditative steps with the chocolate being sampled. Observe the color and shine, smell the chocolate, hear the level of snap it contains, see how it feels on your fingertips, and, finally, slowly place it on your tongue and focus on whether it is creamy, hard, floral, etc. It is an experience that educates and promotes the unique flavors that cacao and chocolate have to offer. Like specialty coffee, specialty cacao is the result of 3 things.
Genetic profile
Terroir
Post-harvest processing
Specialty Cacao and Chocolate have another layer that is not so heralded in coffee. The turbulent history of chocolate adds a layer of story to specialty cacao and chocolate. Story becomes a fourth element in considering specialty chocolate.
What is Specialty Chocolate?
Here is a sample of APOVINCES Hierloom Cacao genetic profile. Famous genetic varieties such as Nacional, Criollo, Amelonado, and Ucayali help give this cacao a flavor range that is "bright" with woody and citric characteristics. It contains flavor traces of nutmeg, cinnamon, and tobacco spice.
Across Ecuador and Latin America there are unique flavor profiles such as the one seen above. Out of this tree of genetic variety, Conexión has carefully crafted our renown specialty chocolate.
We've created 3 Signature Ethical Chocolate Couverture Collections:
Classic Roast
Heirloom Raw
Milk & White
Our specialty chocolate builds on the flavors that can only be found in specialty cacao through careful processing that highlights the best of fine cacao and chocolate. Before creating our recipes and preparing our batch of specialty chocolate, we carefully consider terroir. Sense of place includes the geographical reality, biological components, care for the land, and the story of the local people.
It is the story that often marks the difference. Our specialty chocolate raises the bar not only on flavor, but also on transparency and the level of community we share with our producers. The stories behind our products are the result of the connections we make with our people; hence the name Conexión. Our specialty chocolate always incorporates genetic profile, terroir, post harvest processes and story.
Story: After an earth-shattering quake destroyed the homes of hundreds, we watched as the strength of the people of Manabí pulled together to overcome the disaster. From this episode we named our Fortaleza 64% couverture.
Flavor profile: It pairs together the strength of the people of Manabi with versatile flavors such as citrus, floral aromas, and red fruit sensations allowing you to enjoy in all moods and seasons. The macadamia hints have a lasting sensation that will keep you coming back for more.
Story: The work it takes to get cacao out of farms and into your hands as chocolate is heroic. Vinces farmers show us that determination, and love for the land through the preservation of heirloom cacao is what makes for specialty cacao and chocolate. Watch the story here.
Flavor Profile: Made with gently roasted cacao, which preserves the flavors of our high-quality specialty cacao beans. This bar has an intense floral aroma, robust and creamy texture, and a touch of citrus and woody notes. These flavors are unique to the heirloom Nacional cacao from this province of Ecuador.
Story: Built on the vision and work of Juan Carlos Mesias, our Pichincha 43% hails from a group of 40+ families that came together to promote their Arriba Nacional Cacao. These farmers also grew other crops for a living such as papaya, sugar cane, lemon, guayaba, guanabana, and plantain. Some farmers even had cows for milk production. From their diversity of products we were inspired to create our Milk & White Collection. Watch the story here.
Flavor Profile: Milk chocolate with indulgent cocoa and butterscotch flavor, as well as a balanced acidity, softened by exquisite caramel notes. This is milk chocolate made with the finest cacao and only a few simple ingredients to create flavorful creamy decadence. 
Given the importance of value add-in and the inequality across the value chain of cacao and chocolate, it would be foolish to define specialty chocolate based solely on quantitive means. Sure, specialty chocolate requires fine flavor, but beyond that it requires transparency, an ethical approach to farming, and the connection with actors along the value chain. 
Our specialty chocolate will resonate from your senses to your conscious. Our goal is to connect the often ignored producers of cacao with the exquisite artist of chocolate shops and chefs around the globe.
Our tool is specialty chocolate because we appreciate it's history, its flavor, and its potential for change.