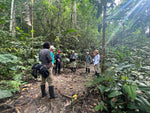 Exploring amazing chocolate regions in Ecuador
The Ecuadorian chocolate community is thriving; no surprise there since we have some of the best cacao and chocolate in the world. That said, we love when we have the opportunity to explore and guide our fellow travelers on a fantastic chocolate journey.
This time, in partnership with Global Family Travels, we had the opportunity to showcase diverse cacao areas to a small group of travelers in the country.
It was a whole week of fantastic chocolate experiences. From immersing in the chocolate and the value chain to the unique tasting experience of the best chocolates in the country, they had the whole adventure. 
Jenny Samaniego, the founder of Conexion Chocolate and renowned chocolate expert and pioneer in the craft chocolate industry, led travelers to unique tasting experiences showcasing Ecuador's very best chocolates. 
At the heart of it all, Conexión Chocolate stands proud, a beacon that connects those curious about chocolate with the vibrant world it inhabits. We don't just bring professional chocolatiers or bakers to the best Ecuadorian chocolate but try to immerse anyone interested.  
So, whether you're a seasoned chocolate aficionado or simply a curious traveler with a taste for the finer things, consider embarking on your chocolate journey with Conexión Chocolate. After all, Ecuador's chocolate community is ready to welcome you with open arms and a cocoa-infused embrace that will forever sweeten your travel memories.