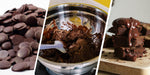 Baking with the Best Chocolate
Whether you're baking special holiday treats, your favorite chocolate chip cookie or brownie recipe, or an extravagant birthday cake, the chocolate used to craft your creations matters. In the same way you might opt for European-style butter or fresh local eggs to enrich the flavors of your baking, using flavorful chocolate will do the same.
How to Choose Chocolate for Baking
When choosing which chocolate to use for baking, it's most important to start by consulting your recipe. Good recipes will include some specifics about what type of chocolate is best to use, ensuring you achieve good results when making the recipe.
The first thing to consider is the cacao content of the chocolate. Most recipes will account for the sugar content in the chocolate, so using 55% dark chocolate when the recipe calls for 81% will increase the overall sugar content and may alter the texture and flavor of the final product. Dark chocolate will often refer to something in the 70-80% range and semi-sweet chocolate will refer to a lower percentage of dark chocolate like 50-60%. This is less important when the chocolate is mixed in whole, like in chocolate chip cookies, but in this situation you still want to consider how the sweetness level of the chocolate will balance with the dough.
You should also take into account how the chocolate will be used in the recipe. If melting the chocolate, it will be just fine to use discs, broken up bars, or chips. If the chocolate is being kept whole, you'll want to consider that a chopped bar will provide chunks while discs will provide more of a layered effect.
The Best Baking Chocolate
Beyond the cacao content percentage and the shape of the chocolate you're using to bake, creating the best flavors comes with choosing a chocolate that pairs well with the other flavors in the dish. When you purchase from a chocolate maker committed to direct sourcing and origin-based chocolate, you have a variety of flavor profiles to choose from.
Our heirloom raw/virgin chocolates provide a more floral and fruity flavor profile, which pairs better with lighter flavors that won't overpower the chocolate's unique characteristics. For a dessert with a richer flavor profile, a better choice is a roasted chocolate with a deeper, more robust flavor.
Chocolate Discs for Baking
Our chocolate discs are beloved by bakeries and home bakers for their flexibility in creating exquisite baked goods. They melt easily for recipes requiring melted chocolate. And when used whole in cookies and other creations, they offer a beautiful layered result due to their thinness compared to a typical chocolate chip.
Explore our baking chocolate offerings to find the perfect chocolate for your next baking project.