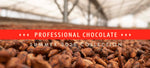 Professional Chocolate - Summer 2021 Collection
We are a sustainable business driven by a passion to preserve fine cacao and its unique flavors, produced by empowered communities, happy stakeholders, and inspired new generations.
Our fine range of couverture is the culmination of a decade of experience working with Ecuadorian Nacional cacao and chocolate. Each recipe starts on the farm, where we source the finest cacao beans directly from farmer cooperatives. We then develop flavor profiles suited to each single-origin terroir.
During the months of the main cacao harvest (January to May), Ecuador's climate and soil produce cacao with larger beans that are full of flavor. Our fermentation process raises the quality of the beans from this amazing harvest. We then play with different levels of roasting to bring you the following lines of chocolate couverture:
Virgin: We minimally process each heirloom Nacional cocoa bean from the Los Ríos province to preserve its unique characteristics. Through a special post-harvest process and delicate roasting, we highlight the exquisite notes of red wine, wood, and florals to create incomparable chocolates and unforgettable experiences.Try our Vinces 85% Baking Chocolate
Roast: This line offers an experience more aligned with the European tradition. Incredible floral aromas, sensational fruity flavors, and caramel nuances complement each other to balance the perfect chocolate. Made with cacao from the provinces of Manabí, Esmeraldas, and Pichincha.Try our Manabí 70% Baking Chocolate
Milk and White: We craft our Milk and White chocolate with cacao beans from the provinces of Pichincha and Esmeraldas. Its complex flavor profile tells the story of indulgent cacao, with a balanced acidity softened by exquisite caramel notes. We also bring to you our exclusive white chocolate, crafted with fine flavor natural cocoa butter to preserve all the aromas of Nacional cacao, and made with natural Tahitian vanilla beans.Try our Pichincha 43% Baking Chocolate
Sustainability and Farmers
Our cacao comes from the most fertile tropical regions of Ecuador. Each terroir grants the Nacional Cacao different characteristics, due to its unique soil and climate, the surrounding biodiversity, and the care of each farmer. These farmers are taking on a long tradition of growing some of the best cacao in the world here in Ecuador. We highlight this in our chocolates that have won over 30 international awards.
We work directly with farmer cooperatives in different regions of Ecuador and are committed to paying a fair price to producers, promoting education, conserving the soil, and preserving the fine Ecuadorian Nacional cacao. We also support organic practices, the empowerment of women, and involve young people in the industry. The cooperatives we source from have been selected for the diversity of flavor profiles that can be obtained from their harvests. Within these cooperatives, 4,007 farmer families produce cacao in agroforestry systems that promote the conservation of flora and fauna.
For wholesale orders, contact us directly at: sales@conexionchocolate.com
Enjoy the taste of our passion for making chocolate and elevate your chocolate creations!