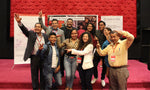 The Cacao And Chocolate Summit 2021: Inspiring Positive Change
Three years ago when Conexión Chocolate founder Jenny Samaniego dreamed up the first Cacao And Chocolate Summit, she envisioned an international meeting of the minds, a gathering of players all up and down the supply chain. The goal was to highlight the best, most sustainable, innovative, and ethical practices throughout the industry – from farmer to retailer to consumer – and to inspire positive change in the global fine chocolate business. This May 26th and 27th the third annual Cacao And Chocolate Summit will carry on this important work with an enlightening agenda, and bring ever more key players to the discussion table (well, to the Zoom room!).
Register FREE for Cacao and Chocolate Summit
Organized with the support and participation of Jody Hayden of Grocer's Daughter Chocolate, the Fine Chocolate Industry Association (FCIA), and MOCCA, this year's Cacao And Chocolate Summit welcomes a wealth of knowledge from its panel participants, including Oliver Hanke, Chief Sustainability Officer at 12Tree Finance, Michael Laiskonis, creator of The Chocolate Lab at NYC's Institute of Culinary Education, Monica Rogan, Founder and Chocolatier at Goodnow Farms Chocolate, Esperanza Dionisio, Manager of Pangoa Co-op in Perú, Carla Martin, Executive Director at the Fine Cacao and Chocolate Institute (FCCI), and more…
The global cacao and chocolate industry has been rife with systemic problems since the beginning. The difficult working conditions of farmers have resulted in poverty-stricken communities where the people work too much for too little and have no power. This has led to a decrease in young farmers wanting to dedicate their lives to growing cacao, and this in turn will dramatically impact the future of the chocolate industry. Moreover, there are so many challenges to accessing and selling fine chocolate in the lucrative U.S. and European markets that solutions need to be found and implemented if fine chocolate is to remain viable.
"The mission of the Cacao And Chocolate Summit is to influence the course of our industry by raising up the voices of growing communities and connecting the entire cacao and chocolate supply chain. In this way, we can build a more ethical chocolate world, a world where growers have free access to knowledge, education and training, so they become empowered and gain control over their work, their product, and their lives." — Jenny Samaniego, Founder of Conexión Chocolate and the Cacao And Chocolate Summit
"The Cacao And Chocolate Summit is our effort to convene important conversations, including historically marginalized voices, to share experiences and best practices, with the goal of benefiting everyone working in fine cacao and chocolate around the world." — Jody Hayden, Cacao And Chocolate Summit Partner | Founder, Grocer's Daughter Chocolate
We all love chocolate, but we don't always love how it's being produced. So register FREE today for the Cacao and Chocolate Summit and be a part of the movement for a more ethical, fair, and sustainable chocolate industry! As founder Jenny Samaniego explains, "As chocolate makers we dream of a sustainable chocolate industry where grower communities are empowered and the next generation of farmers is inspired, with this vision in our hearts we invite you to join us at the Third Annual Cacao And Chocolate Summit!"
Register FREE for Cacao and Chocolate Summit
STAY IN CONEXIÓN!