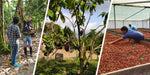 Young Farmers Project: Keeping Cacao Alive in Ecuador
Did you know that a significant portion of all cacao producers are over the age of 60? As the average age of cacao growers increases, we risk losing the important generational knowledge of growing, harvesting and processing cacao. This issue is particularly important for the farmers we work with, as their farms produce rare heirloom varieties of cacao that need to be preserved.
As chocolate makers purchasing directly from the farmers who grow our cacao – based here in the country of origin – it's hard to ignore a problem like this one. That's why we started our Young Farmers Project. This work aims to inspire the next generation of cacao farmers and give them a better quality of life.
About The Young Farmers Project
Through this work, we aim to directly support cacao farmers aged 18 to 35 with the goal of nurturing long-term sustainable farming of fine cacao for the future. We work together with the UOPROCAE cooperative in Esmeraldas, Ecuador to produce a line of chocolate bars made only with the cacao of young farmers. We use an innovative business model for these bars which pays these farmers above and beyond what they would otherwise receive for their cacao.
The young farmers who participate in this program use agroforestry systems that ensure food sovereignty for producers and their families, in addition to promoting the conservation of water sources and local fauna and flora. Not only are they carrying on the production of heirloom Nacional cacao in Ecuador, they're doing it in a way that is sustainable for both our planet and their communities.
In addition to our financial commitments paying these farmers what they deserve, we're also working closely with them to contribute technical and commercial development skills that will support them in furthering their growth as farmers.
Our Young Farmers Project Bars
Want to support this important project? The best way to do so is by purchasing bars from our Young Farmers Collection, which directly puts money into the pockets of Ecuador's young cacao farmers and supports their continued technical education.
These bars are part of our Young Farmers Collection, and can be purchased individually or as a gift set.
Esmeraldas 66%
A classically chocolatey chocolate bar, delivering the perfect concentration of cacao, with fruity and woody touches balancing the long-lasting chocolate flavor. This is the ultimate expression of fine cacao from the Esmeraldas province of Ecuador.
Toasted Coconut 66%
A tropical vacation in each bite! Our Esmeraldas chocolate is both herbal and fruity, pairing perfectly with the subtle sweetness and familiar crunch of toasted coconut.
Passion Fruit 66%
The bright tropical flavors of passion fruit are the perfect addition to our 66% chocolate made with heirloom Nacional cacao. It's a true taste of Ecuador, where both passion fruit and cacao thrive.
Crunchy Banana 66%
Sweet bananas grow amongst the cacao plantations, so blending these compatible flavors couldn't feel more right. Chocolate and banana is a classic Ecuadorian combination, most often served as a refreshing frozen banana dipped in chocolate. We're sure you'll love this chocolate bar form of that favorite treat.
Our Young Farmers Collection of chocolate bars is made only with quality heirloom Nacional cacao produced by young farmers from the UOPROCAE cooperative. The production of this cocoa involves a great effort. We look forward to your support for our young producers. They are the bright future of chocolate!