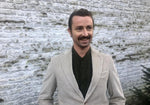 A Warm Welcome for Dale Erwin
Dale is the newest addition to the Sales team at Conexión Chocolate! While completing an MA focused on agriculture and ecology, he did an internship in Ecuador, where he learned about Conexión Chocolate during a chocolate tasting. He was impressed by the delicious chocolate and how Conexión was able to valorize small cacao producers' ecological practices. Now, two years later, he's on the team! When not talking about chocolate, you can find Dale at the climbing gym, reading a good book, noodling on the guitar, or out in the garden with his fingers in the dirt.
Whether you are a professional chocolatier, home baker, or hobbyist: if you wonder about things like what chocolate to use for your recipes or how your choice for ethical chocolate can create a direct, positive impact in the lives of small holders cacao producers, get in touch with Dale and send over your questions. He is eager to connect with you and provide those answers.
Reach Dale directly at sales@conexionchocolate.com.
We look forward to hearing from you and stay in Conexión during 2022!