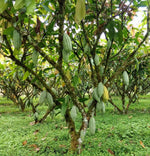 Taking A Dip into the World of Heirloom Cacao
You've probably heard of heirloom tomatoes, but have you heard of heirloom cacao? The term "heirloom" comes down to the preservation of non-GMO seeds that produce the most flavorful, richest tasting fruits. That's true not just of tomatoes but of other products, including cacao!
At Conexión Chocolate, we use an heirloom variety of cacao called Arriba Nacional. While Ecuador only supplies 4% of the world's total cacao, it supplies 70% of the global demand for Arriba Nacional.
When two plagues hit Ecuador in 1916 and 1919, over 70% of the country's cacao production was devastated, and it was only through careful effort that Arriba Nacional was preserved. Today, in a continued effort to preserve and recognize Arriba Nacional as the indigenous cacao of Ecuador, the Instituto Nacional Autónomo de Investigaciones Agropecuarias prohibits the blending of Arriba Nacional with other genotypes (such as the more commercially available CCN-51 variety of cacao).
Modern use of the term 'heirloom cacao' is actually a designation assigned by the Heirloom Cacao Preservation Fund, which defines heirloom cacao as:
The diamonds of the cacao tree, producing the finest flavor. They are endowed with a combination of historic, cultural, botanical, geographical and flavor value that is the foundation of the best tasting chocolate. ~ Heirloom Cacao Preservation Fund
The HCP is an international collaboration between the United States Department of Agriculture (USDA) and the Fine Chocolate Industry Association (FCIA). The mission is to "discover, identify and preserve fine flavor heirloom cacao varieties for the conservation of biological diversity and the empowerment of farming communities." Their mission is to "save the quickly diminishing Theobroma cacao trees that produce the highest quality beans for flavorful chocolate, and to identify farmers who grow them."
Heirloom cacao beans are so special that there are only 16 heirloom-designated farms in the world. In addition to Ecuador, they're located in Brazil, West Africa, Peru and Indonesia. These designated farms go through a careful vetting process by the HCP for their unique genetic profile as well as farming practices that are environmentally sound and provide social and economic benefits to the farmers.
At Conexión Chocolate, we've been committed to maintaining fine-flavor high-quality cacao since our beginning. We source from four provinces in the coastal region of Ecuador and managed the HCP project in the Los Ríos and Vinces provinces. The Los Ríos province has been particularly committed to preserving heirloom cacao.
In 2018, our founder Jenny Samaniego became a coordinator for the HCP. That same year, the Asociación de Productores Orgánicos de Vinces (APOVINCES) in Los Ríos province was designated as an HCP nominee. APOVINCES partners with the HCP to collect DNA samples, verify authenticity, and propagate HCP-designated cacao trees. Soon after, APOVINCES received the heirloom cacao designation.
Our involvement in the HCP project also involves gathering reliable information about the designated cacao trees that: 1) have the finest organoleptic characteristics; 2) are productive; and 3) are the most resistant to disease. The selected trees will undergo a maintenance process for branch reproduction (grafting) to be used for the making of experimental plot and clonal gardens. Each step forms the basis of the HCP project. Only upon successful completion can the selected varieties then be delivered to the producers.
You can support the preservation of heirloom cacao by making a charitable contribution to the Heirloom Cacao Preservation Fund, a 501(c)(3) charitable organization. You can also give by designating them as your charity on Amazon Smile, and you can even adopt an heirloom cacao tree! Check out your options on the HCP Fund's support page.
An even more enjoyable way to support the preservation of heirloom cacao and empower the farming families who grow it is to eat lots of chocolate made from it! Chocolate made from heirloom cacao has an exquisite flavor profile and is sought after by discerning chocolatiers, pastry chefs and aficionados. Ranging from intensely floral and fruity, to woodsy with notes of red wine and whiskey, we offer chocolate bars and couvertures made from heirloom cacao to match any taste. You can shop Conexión's full line of products made with 100% Arriba Nacional Heirloom Cacao, and discover for yourself why flavor profile is part of the heirloom designation!