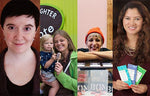 Women Igniting Chocolate: A Panel Discussion + Chocolate Tasting Event
Jenny Samaniego, owner of Conexion chocolate, is on a mission to create a different kind of business model. When she launched her company in 2016 in Quito, Ecuador, she had a vision to create a true collaboration, not only with the people behind the cultivation of cocoa, but also the chocolatiers using her product, in addition to those wanting to eat delicious chocolate. Inspired by her home country's traditional tapestry designs, her packaging intentionally boasts her Ecuadorian roots.
We're offering a 20% student & industry discount to give more folks the opportunity to attend. To get the discount, please send us an email to rleber@zingermans.com and we'll follow up with you. We can't wait, hope to see you there!
Visit the
official event page
for more information.