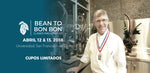 Sinopsis
El curso tiene una duración de dieciséis horas distribuidas en dos días y ha sido planificado de manera integral abarcando temas iniciales como el origen del cacao y sus variedades hasta temas más complejos como el proceso de transformación del cacao ecuatoriano en bombón, el curso se enfoca en el trabajo y manipulación de las diferentes coberturas de Conexión Chocolate, aplicación y técnicas de uso. El proceso formativo está a cargo de reconocidos chocolateros internacionales de Estados Unidos y locales en idioma Inglés con traducción simultánea a Español e incluye todos los materiales necesarios para la ejecución de recetas, así como las herramientas de trabajo y un diploma certificado por Conexión Chocolate, Grocer's Daughter Chocolate y el auspicio de Ecuatoriana de Chocolates.
Expositores
STEPHEN DURFEE
Profesor de artes de la chocolatería y pastelería en The Culinary Institute of America in California, USA.
Competencia Mundial de Maestros de la Chocolatería, Tercer lugar.
James Beard Foundation, Chef pastelero del año.
Uno de los "10 mejores chefs de repostería", Pastry Art & Design and Chocolatier
Coupe du Monde de la Pâtisserie, Miembro del equipo de Estados Unidos.
JODY HAYDEN
Propietaria de Grocer's Daughter Chocolate in Michigan, US.
Co-fundadora de Higher Grounds Trading Company.
Educación sobre las realidades de suministro de cacao y café de América Latina y África.
Fair Trade Resource Network (FTRN).
Organización de soporte de desarrollo del comercio justo. (Miembro de la Junta).
JENNY SAMANIEGO
Chocolate Maker y Fundadora de Conexión Chocolate, Ecuador.
Fundadora de Cocoa Provisions, USA.
Creadora de coberturas y barras de chocolate galardonadas con premios internacionales y locales: de "The Academy of Chocolate", "International Chocolate Awards" y "Ecuador Chocolate Awards".
Mas de cinco años de experiencia organizando visitas de chocolateros internacionales al Origen del Cacao, Ecuador.
Download 2018 Class Schedule [PDF]
Inversión y Métodos de Pago
PROFESIONALES: $299
SOCIOS ESTRATÉGICOS: $279
ESTUDIANTES: $259
Transferencia o depósito bancario
(Banco Pichincha código SWIFT: PICHECEQ
número de cuenta: 2100124450)
Tarjeta de Crédito
*Valores incluyen impuestos
ABRIL 12–13, 2018
LUGAR: Universidad San Francisco de Quito
MAYOR INFORMACIÓN: info@conexionchocolate.com