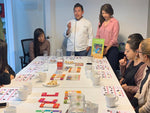 Love for Ecuadorian Cacao
::: [English] :::
Ecuadorian chocolate is the most desired in the world, from its origin in the sowing and harvesting of fine flavor cacao, passing through the roasting of the cocoa beans and their final product.
Familia magazine did a report on Conexion Chocolate about our brand philosophy, chocolate tastings, and chocolate making process.
::: [En Español] :::
El chocolate ecuatoriano es el más apetecido en el mundo, desde su origen en la siembra y cosecha de Cacao Fino de Aroma, pasando por el tostado de las pepas de cacao y su producto final.
Revista Familia nos hizo un reportaje a Conexión Chocolate sobre nuestra filosofía de marca, catas de chocolate y la explicación del proceso de elaboración del chocolate.