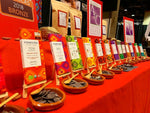 Salon du Chocolat New York 2019
Conexión Chocolate is proud to attend to the world's largest event dedicated to cacao & chocolate, Salon Du Chocolat New York. We will be attending with our premium and unique chocolate made with the finest cacao beans produced and harvested directly from Ecuadorian hands, who have managed good cultivation and care practices for several generations extending a legacy of tradition.
Salon du Chocolate 2019 will be hosted at the Javits Center, New York City, November 16–17, 2019. In this event you will have the opportunity to travel through different regions and provinces of Ecuador with every Conexion´s chocolate bite and feel several exotic flavors combined with the most amazing aromas; exclusive sensations that our fine chocolate brings to you from flash, to light, medium, and dark roast.
We focus on the creation of fine, organic and artisanal chocolate produced entirely in Ecuador, contributing to the local economy. We empower small scale farmers through direct associations; supporting the preservation of fine aroma cocoa and promoting education in the value chain, this way we ensure exceptional quality in our cacao.
We hope to see you at this important event to show you with details more about the process of fine chocolate making.