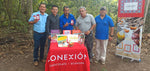 ::: [English] :::
Connecting with our producers!
We enjoyed a day of integration with 600 cocoa producer partners of the UOPROCAE Association where we share directly with cocoa producers and in conjunction with Conexion Chocolate and Rikolto in Latin America - VECO we highlight and support the great work of #UOPROCAE with the aim of have a quality cocoa which allows us to have a premium and award-winning chocolate.
We also spoke with the Mayor of the Municipality of Atacames Freddy Saldarriaga Toral, about the projects that are being carried out together with #UOPROCAE.
::: [En Español] :::
¡Conectando con nuestros productores!
Disfrutamos de un día de integración junto a 600 socios productores de cacao de la Asociación UOPROCAE donde compartimos directamente con los productores de cacao y en conjunto con Conexión Chocolate y Rikolto en Latinoamérica – VECO resaltamos y apoyamos la gran labor de #UOPROCAE con el objetivo de tener un cacao de calidad lo que nos permite tener un chocolate premium y galardonado.
También dialogamos con el Alcalde del Municipio de Atacames Freddy Saldarriaga Toral, sobre los proyectos que se están realizando junto a #UOPROCAE.