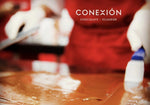 Now Hiring: Sales Development Representative (Part-Time, USA)
Description:
Conexión Chocolate is looking for a part-time sales development representative. A unique opportunity for a passionate person to build relationships with chocolatiers, pastry chefs, bakers, wholesalers, retailers, brokers to increase chocolates sales and grow with us.
We make award-winning chocolate exclusively with Arriba Nacional cacao beans from Ecuador. Each chocolate starts on the farm, where we ethically source the finest cacao beans directly from farmers' cooperatives and develop flavor profiles suited to each unique single state. We produce chocolate for professionals and Chocolate lovers creating unforgettable experiences. We support the preservation of heirloom cacao varieties, traceability, sustainability and education in the sector.
We are welcoming a bright, passionate, honest, self-motivated person to join our team. Someone that wants to become a brand ambassador to deliver enriching and memorable experiences for our people, our producers and our customers.  If you are an enthusiastic, outgoing and energetic person, we would love to meet with you.
Essential Job Duties and Responsibilities include, but are not limited to:
Maintain a keen understanding about Conexión Chocolate business model and products
Achieving sales goals and objectives in multi-states
Increasing sales through key customer account penetration by analyzing current sales and volume, planning customer visits and sales calls
Maintain and manage relationships with our existing customer base and identify new sales opportunities within existing accounts
Represent Conexión Chocolate at agreed upon shows and events
Negotiate sales agreements, timely order processing and fulfillment
Regular communication with Conexión Chocolate Ecuador team
Collaborate with Marketing to develop and implement communication campaigns
Provide genuinely excellent customer service
Other duties as assigned to support achievement of company sales goals and objectives
Skills and Qualifications:
Salesperson with 3+ years' in the Pastry and Food Service Industry
Experience in the Chocolate Industry a must
Superb verbal and written communication and interpersonal skills
Compelling and engaging presentation skills
Ability to think creatively and strategically
Highly motivated with a positive attitude and sense of urgency
Ability to work independently within various software systems
Outgoing, competitively driven and collaborative
Must be reliable and flexible for travel when necessary
Excellent time-management skills
Able to work virtually
How to Apply:
Send your resume to info@conexionchocolate.com