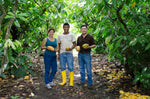 A Journey to Origins in Ecuador
September 2–9, 2022
Back by popular demand, Conexión Chocolate's Cacao Expedition returns this September!
Join Conexión founder Jenny Samaniego on a one-of-a-kind tour of some of Ecuador's most magical cacao-producing regions. Immerse yourself in the lush landscape as you learn about cacao from the people who know it best, the farmers. Along the way, you'll experience the rich culture of Ecuador through its cuisine, arts, music, breathtaking nature, and of course, its chocolate.
Space is limited, so don't delay!