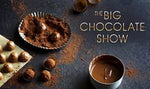 The Big Chocolate Show 2017
Discover a world of chocolate at the Big Chocolate Show, October 6-8, 2017 in NYC! Meet the greatest chocolatiers, artisans, chefs and experts from around the world.
See exceptional chocolate creations, attend live demonstrations, and take part in a variety of delicious gourmet activities for both adults and children.