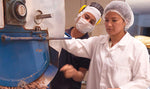 Pure Chocolate: The Women Who Are Taking the Lead
Jody Hayden and Jenny Samaniego met in 2010 in Ecuador. Hayden was leading a cacao harvest tour for her friend, Mimi Wheeler, founder of Grocer's Daughter Chocolate in Empire. At the time Hayden was working for Peace Coffee, a fair-trade coffee company in Minneapolis.
Samaniego, a native of Ecuador, was living in New York City and working for a chocolate maker in New Jersey. The two immediately hit it off, finding they shared a passion for sustainability and social justice (and, of course, chocolate). Little did either of them know then that less than eight years later they would both be the owners of award-winning chocolate companies, spearheading a new ethical business model in the chocolate industry.
Samaniego grew up in Quito, Ecuador's bustling capital city, but both of her parents are from small rural villages where most families are subsistence farmers who also grow bananas, oranges, potatoes, beans or cacao for export to make their living. She grew up climbing on the cacao trees in her mother's hometown of La Mana—trees that grow some of the finest cacao in the world, the aromatic Arriba Nacional cacao beans. She recalls eating the fresh cacao pulp straight from the pod while playing in the trees as a child.
With this experience, she has witnessed firsthand how cacao farmers do the grueling work of growing and harvesting cacao, but see little of the profit. Because cacao is a commodity crop, it is a volatile market. If there is a good harvest the price can drop dramatically, and the farmers are the one who suffer the loss. This can mean going from little profit to no profit at all for their months of hard work.
After moving to New York in 2005, Samaniego started working in food and eventually in the chocolate industry, where she began to understand that Ecuadorian cacao, especially the Arriba Nacional variety, was in high demand for its nutty and aromatic floral properties. She remembered fondly her childhood playing among the cacao trees, and knew she had found her passion. She recalls thinking, "These are my roots, my people, my country." She began to dream that she could one day bring chocolate to the market made with Ecuador's famed Arriba Nacional cacao, sourced directly from the farmers, at a price that reflected the hard work of growers and that supported sustainable farming practices. Samaniego shared her dream of owning a direct trade chocolate company with Hayden during the trip to Ecuador in 2010.
CONEXION CHOCOLATE IS BORN
In 2013, Hayden moved back to her native Northern Michigan and she and her husband, DC, purchased Grocer's Daughter Chocolate from Mimi Wheeler. Upon taking over the business, Hayden knew exactly where she wanted to source her chocolate.
Samaniego had already been experimenting with creating the perfect couvertures (high-quality chocolate) from Arriba Nacional cacao. While it was difficult to break into the field as a woman and an immigrant, with the help of a friend she was able to introduce her chocolate to important, well-respected chefs who went on to help her formulate the couverture through many rounds of tasting with technical feedback.
Her big break came, however, in 2013 when Jody Hayden contacted her, and Grocer's Daughter became her first customer. A few months later, the company that eventually became Conexion Chocolate was born. Samaniego says that "'sustainable' and 'direct trade' are not lines we offer in a vast catalog – they are all we do!"
CRAFT VS. COMMODITY CHOCOLATE
There is a big difference between the "craft" chocolate created by Conexion and "commodity" chocolate, according to Hayden. Most chocolate consumed today is best described as candy—largely sugar with a small amount of cocoa added. For example, a Hershey bar is made up of only 11% cocoa. The rest is almost all sugar.
Unlike commodity chocolate, Conexión's couverture is 60% to 85% cocoa, and made from cacao that is carefully selected for its nuanced flavors. Samaniego explains that "just like wine or coffee, nuanced differences are brought on by climate, elevation, soil type, rainfall and average temperature." There are no additives, only the intense flavors provided by these differences in terroir. There are "strong floral notes" of Arriba Nacional from Manabi, according to Samaniego, in contrast to the "more nutty notes" of cacao grown in Esmeraldas, 400 kilometers north.
As for the quality of her chocolate, Samaniego says, "Sometimes it is better to let the chocolate speak for itself." Conexion Chocolate won six awards in 2017 from the Academy of Chocolate, the International Chocolate Awards and the Ecuador Chocolate Awards.
PURE CHOCOLATE
In addition to its superior quality, the Conexion couverture Grocer's Daughter uses is sourced through a direct-trade model. This means that Conexion is buying directly from farmers, which has two primary benefits: increased quality of the finished product, and increased quality of life for the farmers. By working with the farmers, Conexion Chocolate is able to control critical parts of the growth, harvest and fermentation processes. They are also able to ensure that the price premium that is paid is going to the farmers and not middlemen.
"This model not only keeps more of the profits in the country of origin, which needs the economic boost, but also helps improve quality because more people at origin are tasting the end product and getting trained in quality control," says Hayden.
This high standard is continued at Grocer's Daughter's quaint shop in Empire, Michigan, where high-quality local ingredients such as cream from Shetler's dairy, honey from Sleeping Bear Farms and dried cherries from North Star Organics are used in the final preparation of its truffles and other creations.
The direct-trade model allows for chocolate makers and chocolatiers to pay attention to the impact their industry has on the lives of the people in the supply chain, as well as the health of the land where the chocolate is grown. That is key, for Hayden and Samaniego.
THE UGLY SIDE OF CHOCOLATE
Big Chocolate (think Hershey, Nestle, Mars and Mondolez) source huge amounts of cacao. According to Hayden, this requires them to buy from the cheapest sources without regard to quality or the impact on the lives of people who grow it, resulting in an industry that is rife with exploitation—of the land, the growers and, most disturbingly, of children.
About 70 percent of the world's cacao is grown in West Africa, the vast majority in the Ivory Coast and Ghana. Because cacao is still harvested by hand, and due to extreme poverty and corruption in these countries, child labor, and even slave labor, is rampant.
Big Chocolate companies have long recognized the problem of child labor in the industry and have been promising for more than 15 years to solve it. However, little progress has been made. According to a survey by the US Department of Labor released in 2014, more than 2.1 million children in the Ivory Coast and Ghana had been involved in child labor in the chocolate industry—a 21 percent increase from 2009 numbers. 96 percent of these had been involved in "hazardous activity" while harvesting cacao (cacao is harvested with machetes). 37 percent of the children were found to have suffered wounds or cuts. An article in Fortune magazine details how some of these children are taken out of school by their parents to work on the plantation, but others are victims of human trafficking, and are literally slaves.
A root of this problem is that commodity cacao ("bulk" cocoa) farmers do not make enough to pay adults to harvest the cacao. While Nestle made $8.5 billion in profits last year, the average cacao farmer in West Africa makes less than a dollar a day.
In addition, commodity chocolate contributes to deforestation of Africa's rainforest—particularly in the Ivory Coast, where the rainforest has been reduced by 80 percent since 1960. Traditionally, cacao is grown in the shade canopy of the rainforest, where permaculture principles keep trees healthy and biodiversity provides natural pest control. However, the high demand for cheap chocolate has driven farmers to plant genetically modified trees that produce increased yields in the sun. In turn, the close proximity of the trees and lack of natural pest control makes them subject to pod rot, and dependent on fertilizers and pesticides. In addition, these stressed trees do not live as long, causing farmers to clear new swaths of rainforest to begin again, often illegally in protected national parks.
A BETTER CHOCOLATE BAR
In contrast, the chocolate Grocer's Daughter Chocolate uses is sustainably grown in the shade canopy of rainforests in Ecuador. By using the direct-trade chocolate model, farmers are paid a fair-trade premium and an organic premium, plus a quality premium. As a result, farmers receive far above what they would receive in the commodity market. Samaniego says that Conexion Chocolate alone supports over 2,000 family farmers. Their chocolate is made at origin in Quito, allowing for quality control and providing good paying jobs to more than a dozen families.
This is the most exciting thing about the chocolate industry to Hayden: "There are few foods in the world that have the potential to positively impact so many people." The World Cocoa Foundation reports that cocoa is essential to the livelihoods of 40 to 50 million people worldwide. Hayden believes that by choosing ethically produced chocolate "we have the ability to provide dignified livelihoods to so many people and create substantive, positive change."
SCALING IT UP
Jody Hayden already had a firm commitment to fair trade and sustainability before becoming a chocolatier. In her 20s she cofounded Higher Grounds Trading Company and worked for ten years in the fair-trade coffee industry. She knew from this experience that a model existed to expand the power of fair trade by bringing together farmers with buyers in a cooperative business model. In Conexion Chocolate, she has a supplier that feels as strongly as she does about using their businesses as a vehicle for social change.
So, in the summer of 2017, Hayden and Samaniego hit the road to introduce Conexion Chocolate to chocolatiers in the Midwest, and to gain support for a new model of ethical sourcing of chocolate. They received an overwhelmingly positive reaction, especially from renowned chocolatier Gail Ambrosius of Madison, Wisconsin, and this fall the three women launched "The Chocolate Squad."
The Chocolate Squad seeks to leverage the community purchasing power, connections and knowledge of these women to make it easier for like- minded chocolatiers to purchase the highest-quality craft chocolate that is sustainably and ethically harvested. Ambrosius says she is "so excited to be a part of this all-female venture." She loves the idea of giving farmers a better price up front for their hard work. With this model, she believes "we can build a more sustainable system." Not surprisingly, The Chocolate Squad's first sales have been mostly to women chocolatiers.
This seems to be a trend in the industry, according to Hayden. "Some of the most innovative business models and best chocolate I've tasted is being created by women." She recently met some women chocolate makers and activists from Brazil and Venezuela who are "not only making incredible chocolate, but also creating a new movement of social entrepreneurship in their respective countries."
Another effort, Uncommon Cacao, founded in 2010 by Emily Stone and Maya Granit, is providing more transparency and meaningful market access for small-holder cacao farmers in Belize and Guatemala. To Hayden, all of these efforts are "indicative of the tide of women who are seeking something more ethical and meaningful from our industry." These companies are driven not only by a desire for superior product, but a mission to provide a fair price to the farmers and everyone in the supply chain.
The impact of women chocolate makers and chocolatiers has been exciting, but Hayden feels there is still much work to be done. "Most cacao farms are still owned by men, and I have yet to see a concerted effort in the industry to create opportunities for women farmers to own their own land and have an equal voice at the negotiating table," she says.
Even so, "it's a pivotal time for chocolate," Hayden says, "and I'm excited to do my small part to make chocolate more equitable for the people who grow it."
IF YOU GO:
Jody Hayden and Jenny Samaniego will lead a tour of chocolate and coffee industries in Ecuador April 7–14, 2018.
More information at http://grocersdaughter.com/.
Source: EdibleCommunities.com