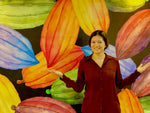 Conexión Founder Makes Finals in Pitch Competition
We're so excited to announce that Jenny Samaniego, our fearless founder, has made it to the final round of the Take Off Now Business Pitch Competition! Take Off Now, organized by New York Women in Business and supported by Accompany Capital and the Wells Fargo Foundation, is a competition for female founders to practice and perfect their pitching skills, and to compete for a $10,000 prize to fuel growth in their company.
As a finalist, Jenny and Conexión are in the running for this prize, and YOU can help! The awards will be announced during a Zoom ceremony on February 24th, at 6:00pm EST. Register to attend, and you can vote for Jenny for the People's Choice Award and an extra $1,000 for Conexión!
The Take Off Now Business Pitch competition highlights businesses that pivoted when they were hit by the pandemic, seized the opportunity to innovate, seek out new opportunities, and are now emerging stronger than ever. We know Conexión Chocolate hits all these targets, so we hope you'll show your support, register for the event, and cast your People's Choice vote for Jenny on the 24th!