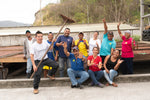 Conexión Chocolate planning for a BIG 2023
It's 2023. This is a year of hope, at least according to the Chinese Zodiac. And it's much welcomed after 2 long years of pandemic. Conexión Chocolate is also injecting a little hope in our 2023 plans. With our professionals and chocolate lovers in mind, we are projecting a year of chocolatey sweetness. So if you haven't subscribed to our newsletter, you can do so by entering your email address down below (website footer area) to stay in conexión. 
Let's start with our two big events.
Conexión Chocolate Events
At the cornerstone of who we are and what we do is the idea of connecting. Connecting people, places, and flavors. We eagerly create spaces with the goal to bring people together.
Cacao and Chocolate Summit 2023
The 5th Annual Cacao & Chocolate Summit will take place on May 24–25, 2023. This is a global gathering of experts, producers, chocolate makers, pastry chefs, NGOs, representatives of government, and consumers. The goal of the event is to create a better future for everyone in this industry because we understand that sustainability requires challenging the how and why we create value.
We are tackling some important questions during the summit such as inflation, living wages, traceability, and post-pandemic realities for cacao producers and chocolatiers.
Check out our 5th Annual Cacao and Chocolate Summit webpage where we will be posting regular updates including our panelists, agenda, and accoladed Cacao Expedition 2023.
Cacao Expeditions 2023
In 2022, our Expedition was a highlight of the year for those who were able to join us. This year, we are going cacao in anticipation of our Cacao Expedition 2023.
Highlights of this 7-day expedition include:
Chocolate tastings

Guided tours

South American Artisan Markets

Rafting the Mindo River

Heirloom Cacao Preservation Projects

Coastal visits to UOPROCAE cacao farms

Hot Springs!

Chef-Prepared Dinners
If you're getting itchy feet reading this then feel free to get in on the deal now. There are only 8 of our 12 slots still available.  
Conexión Products
Since 2013 we have taken on the challenge to make traceable, fine quality chocolate at origin. We have been doing this for bean to bar and for our professional line of couvertures. Years of hard work has given us the experience and know-how for creating the best flavors with the best ingredients. When you purchase from a chocolate maker committed to direct sourcing and origin-based chocolate, you are supporting commitment to transparency and equity. 
New Hot Drinking Chocolate
Just in time for the coldest of winter days and the warmth of a hearth. Our hot drinking chocolate is made with our top quality chocolate discs. We made our hot chocolate because we are aware that chocolate is more than a flavor, it's an experience. The part of the brain that associates memories with taste allows chocolate to form the deepest of bonds with chocolate memories. So here is to a 2023 full of fond memories, ignited by delicious chocolate.
Montubio 64% Dark Drinking Chocolate
On the Ecuadorean Coast, in the region of Manabí, live an indigenous group of farmers. They are known for their hospitality, joyous demeanor and service to others. Montubio is a term that originates from this area and is used for someone who has a revolutionary love for nature. Our Montubio drinking chocolate pays homage to the strength and character of this region.
Soberano 43% Milk Drinking Chocolate
Someone who is soberano is someone that has the recognition and reputation of standing out as dominant or supreme. In the world of drinking chocolate, our Soberano 43% rises high above the competition. Made with milk from the high altitudes of Pichincha at 1,300 meters above sea level, Soberano invites you to indulge in notes of caramel, nuts, and hints of vanilla with every sip you take.
Our Hot Drinking Chocolate is available in bulk sizes for food service providers and chocolate lovers of all scales.
Directions:
Heat milk till just starting to boil, then turn down the heat to a simmer.
Add the chocolate and stir with a spoon or whisk till incorporated and starting to thicken slightly (2 minutes). 
Do not burn as you cook the chocolate and milk. You just want it to thicken slightly and stay combined.
Take off the heat and taste for sweetness.
Add any sweetener as desired. 
You can reheat gently as needed so it's something that can be done ahead to serve to customers. 
Or watch the video from Chef Anne Boulley.
Whether you are hungry for social justice, quality chocolate or enlightening adventures, we offer experiences that are sure to please your appetite. Best of all we delivery directly to your door.
This 2023 we hope you will stay in Conexión! Feel free to comment below or reach out to us through our social media. We want to hear from you. 
Particularly if you are interested in participating in our Cacao and Chocolate Summit or joining us for our Cacao Expedition 2023 be sure to get in touch and check out our website.