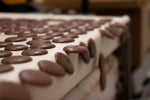 Conexión Couverture Introduction
This month marks the beginning of the cacao harvest season in Ecuador. The farmers we work with take part in a long tradition of growing some of the best cacao in the world. Over 4,000 farmer families produce cacao in agroforestry systems that promote the conservation of local flora and fauna.
The unique climate, soil conditions, surrounding biodiversity, and farmers' care produce cacao with larger beans that are full of flavor, which will be harvested until May. When the farmers split open the cacao pods to extract the beans and pulp, the seeds present a sensual violet color. During fermentation, these little beauties will change in appearance and taste as complex flavor profiles emerge that later will flourish in each of our chocolates.
After the cacao has been dried, we then utilize different levels of roasting to draw out distinct sensory properties. The nuance and variety of flavors, based on roast level and the terroir of distinct regions, can be experienced through our different couverture lines:
Heirloom Raw
We minimally process heirloom nacional cacao beans from the Los Ríos province to gently amplify its unique characteristics. Through a special post-harvest process and delicate roasting, we highlight exquisite notes of red wine, wood, and violet florals to provide an unforgettable experience with incomparable chocolates.
Classic Roasts
This line offers an experience more aligned with the European tradition. Delicate honey, caramel, and nutty flavors we've come to expect from fine chocolate harmonize with sensational red fruit acidity and lilting floral notes to create a perfectly balanced chocolate. Made with cacao from the provinces of Manabí, Esmeraldas, and Pichincha, our roasted couvertures effortlessly showcase the terroir-driven subtleties of flavor between the different provinces.
Milk & White
Our Milk and White Chocolate line is crafted with cacao beans from the provinces of Pichincha and Esmeraldas. The lower percentages of cacao do not detract from the well-balanced flavor profile. Our Milk Chocolate boasts an enlivening acidity softened by indulgent caramel, vanilla, and coffee notes. Our exclusive White Chocolate, crafted with our own fine flavor natural cacao butter, is a melt-in-your-mouth delicacy expressing all the subtle sweetness of Ecuadorian chocolate.
Many of our chocolates have garnered international awards, 30 and counting. More important to us than awards, however, is the impact we can have here in Ecuador. Working directly with farmer cooperatives, we are committed to paying a fair price to producers, promoting education, encouraging organic practices, empowering women and youth in the industry, and preserving our shared heritage, Ecuadorian Arriba Nacional cacao.
We want to share with you what is behind every drop of our chocolate couvertures, the purity of our heirloom cacao, our passion for making craft chocolate at origin, and how the hard work of our small holders cacao producers is reflected in the spectacular flavor profiles of our baking chocolate. After many  months of development we are very excited to introduce to you our Signature Ethical Chocolate Collection, a specialized guide of the uses and the versatility of each of our chocolate couvertures. Whether you are a professional chocolatier, home baker, or hobbyist, take a deep-dive into our history, learn how our chocolate can elevate your creations, and how your choice for ethical chocolate can create a direct positive impact in the lives of our small holders cacao producers and the world.
Get the Signature Ethical Chocolate Collection Guide
Enter your email address below to sign up to get our specialized guide to using couvertures for all of your baking needs.